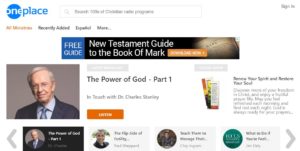 Two of my preset stations in my automobile are set for local Christian stations. They rotate modern Christian music in with sermons from nationally renown (and sometimes local) preachers.
As far as streaming to your mobile device goes, there is one app that really does a fantastic job. Its called OnePlace. They also have their website OnePlace.com from which you can stream. Its totally free and you can play in the background while your screen is off. I usually do exactly this when I am walking in the trails to get my daily physical exercise.
Two preachers in particular that I love listening to are Adrian Rogers and Dr. Charles Stanley. What I love about these two gentlemen's message is that it is not sugarcoated. They specifically rail against softening the message in order to attract as many followers – like other famed personalities do. Mr. Rogers specifically will get very excited at times and his voice will become powerful and really drive home the point he is making.
I hop this information helps you find the message you are looking for and helps you deepen your devotion to Christ.