Contributed by Gary
This story took place in 1982 in Omaha, Nebraska
At this time, I was working at the school where I had attended as an art student.
There were two young men both of which were around twenty-two years old. They both had been involved in the occult, one to a much higher degree than the other. They new of my faith and would at times question me. This day they came to my office to have me check some of there work and started to ask questions again and thus a new story began.
They were questioning things about my God and his power. I was impressed at this time to share the story of salvation with them and answer more of their questions. I told them that Satan had to bow down before my God. When finished talking with them I said that I would pray for them. I explained to them that they are accountable to God for what they now know. I told them that darkness and light cannot co-exist. I said that this would be a vulnerable time for them because Satan wants them where they are and will fight with all he has to keep them bound to him. You could see in their eyes that they were a little frightened because they were aware of the power that had them in bondage. Later one of the young men invited me to his apartment to visit. On his wall above a book case was a large pentagram with the rams skull. There was a human skull on another shelf and candles in the room. It was an sick feeling and my spirit struggled while there.
That night when I went to bed I sat at the bottom of my bed and started to pray. My prayer went like this:
"Lord, cover me with your full armor. Clothe me with the belt of truth, the breastplate of righteousness, the swiftness of your sandals, the shield of faith to deflect the fiery darts of the evil one, the helmet of salvation, and the sword of the Spirit, which is Your word. Lord also surround me with Your angels for protection because I know that this is going to be a battle tonight. Keep them safe from the one who would destroy".
As I lay down on my bed while still praying, I felt a surge of power flow through me.
In the morning back at the school, the boy whose apartment I visited saw me and came over to me.
He looked at me for a few seconds and then said, "You won't believe what happened". Then he looked puzzled and started to walk away. I said, "Believe me, I can understand a lot more than what you think I can". After a few seconds he turned and described part of his life to me and then what had happened to him.
This young man said, "I am twenty-two years old and I have been sleeping with my head under my covers every night because I was so frightened for the last couple of years". Then he said, " Last night while I was in bed with my head under my covers, I had this feeling that someone or something was out there watching me me and it had me really scared. When I finally got the courage to pull my cover from my head and look, you were there standing next to me. You had on bright shining gold armor and you had a two sided sword at your side. There were others with wings around my room". I said, "Thank you Lord" then told him what my prayer was that night.
The young man had a real change happen in his life that day and kept in touch with me for a couple of more years after he graduated.
I never saw the other young man again.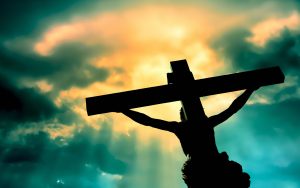 Never underestimate the power of your intercession. Refuse to limit God to only what you are capable of doing because God is so much bigger than us. God doesn't just use our abilities, He uses our availability. When we put limits on what God is capable of doing, we deny His sovereignty and power. If God can, with his breath, create a universe and breath life into a pile of dirt which was man, how much more beyond amazing things can He do with us if we only avail ourselves to Him.
The peace of Christ fill you and set you free.
Gary