Contributed by Gary
This journey took place in 1977 at Great Lakes Naval Training Center, 1978 on board the USS LaSalle and 1979 on board the USS Brooke.
In 1976 and 1977 I was stationed at Great Lakes Naval Training Center outside of Chicago, Illinois.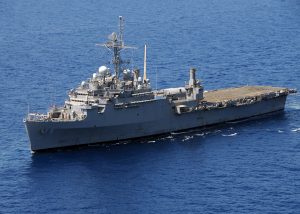 I was stationed at the Boot Camp Dining Facility. One year as the Night Baker and one year as a General Cook and breakfast cook for the officers. My nicknames were "The Killer Cook and Jesus number 2"..kind of a study in contrast. On the one hand I had to keep order of the recruits that were assigned to me and on the other hand a witness to recruits and the others I worked with. 13,000 recruits made their way to the mess decks three meals a day. When I would see recruits having a hard time, I would pull them aside and encourage them and give a short witness. I always had my Christian music playing and they were a captive audience.
After two years there I received my new orders to go to the USS LaSalle in the Persian Gulf…the one place in the world no sailor wanted to go for duty. Before leaving there I looked across the sea of recruits and asked God what good had I done there, knowing I would never see but a few of them ever again. I should have known that God would answer that question.
Two weeks later the helicopter taking me out to my ship landed on the flight deck of the USS LaSalle. This was my first time at sea and the nerves were there for sure. As I debarked the helicopter and started walking across the deck with my seabag over my shoulder, a sailor saw me and came up to me. The first thing I heard upon landing on the ship was this, "Do you remember me? I became a Christian". This was a young man who as a recruit had work with me for a week at the boot camp mess hall. This was the 1st of encounters over the next two years of God showing me just what good it did to share my witness with someone.
Throughout that year on the USS LaSalle, God granted me favor with the command on of the ship. I learned how walking the walk that you talk can make changes in people's lives without ever having to open your mouth to witness. I was the cook for the officers and they had heard of my faith and they witnessed my life daily as I worked for them.
The command had heard that myself and about 4 others had been meeting and having a bible study. One day a commander came to me and said they were giving us one of the officers staterooms as a chapel and we could have our bible studies there. Over the year sailors started to come up to our meetings and we were able to share and help them through situations in their lives. It wasn't until the week I was leaving the ship to go to my next ship that the Executive Officer stopped me and told me that all the sailors that were showing up to our studies were sailors who had gotten into trouble in some fashion. He said that instead of taking stripes off their shoulders, fining them and putting them in the brig, they were sending them to us. He said that the command decided that there was a better way to help some of them without punishment and they sent them to our meetings.
The command also asked us to have an Easter service on the flight deck for the entire crew. We did our best and on Easter morning we had a service for the crew of 650. We each took turns sharing our testimony with the crew and played music about Christ raising from the dead and reading Gods word. We told them about what it would take for them to know God personally and lead them in the prayer of salvation.
Stories of changed lives start to emerge through the year. One night while I was working the Midnight Rations for those working the night shifts, there was a knock on my galley door. I opened it and there stood Bulldog. The meanest most disgusting sailor on the ship. Usually an encounter with him would find someone picking you up off the deck when he got done with you. With a lump in my throat I invited him into my galley and shut the door. Bulldog stood there looking at me in the eyes and said something I never could have expected. He said, "Grubbs…How do you do it, How do you walk past the bars. How do you walk past the prostitutes. How is it that you are not phased by what people call you?" My nickname on the ship was Cherry Gary!
Bulldog gave his life to the Lord that night and his life changed. It would be fun watching people move aside as Bulldog would join me at my table for lunch. They all said that Grubbs had a bodyguard. A Lion and a Lamb.
I left the USS LaSalle in the Persian Gulf and joined the crew of the USS Brooke, home ported in San Diego, California in 1978.
I was the officers cook on this ship for the year I was on it. Over that year there were many new stories of how Christ moves in the lives of the lost. When they say a sailor has a girl in every port, I came to find that wasn't to far from the truth. It was sad to see married men cheating on their wives and young men out for the conquest. Around 1/3 of the ship had STDs during that tour. There were around 260 aboard this ship. That was also the time when some unknown disease was taking the lives of so many. That disease later was named as HIV and AIDS.
This ship took me throughout the Pacific Ocean. From San Diego, to Vancouver and Victoria British Columbia, Canada, to the Philippines, Hawaii, Japan, and everywhere in-between. By the time I left that ship, I had circled the world in two years.
When we were in Victoria, British Columbia, I was way off the beaten path in a little restaurant eating lunch. I looked out the window as someone walked by the window that I thought I recognized. Then a head looked back into the window and it was someone I had met in Saudi Arabia. I asked the waiter to watch my table while I went outside to talk to this young man. He said to me, "Do you remember me? I became a Christian. This was the 2nd time the Lord had taken me to some obscure place to show me where his word had traveled to.
After leaving Victoria, my ship went to Hawaii. I had been at Pearl Harbor and took a ship's boat to shore for liberty. After spending a day swimming in the ocean, I hopped a bus to head back to my ship. The ship was leaving in the morning.
I was really tired and ended up falling asleep on the bus. When I woke up, I was half way across the island in the mountains. I got up and asked the driver when the next bus was heading the other way. The bus driver told me that there were no more busses. I panicked, knowing the ship was pulling out early in the morning. I told the bus driver to stop the bus and let me out. He didn't want to do it, but I instead. It couldn't have been much darker as the bus drove off. I slowly worked my down the road, feeling the side of the road with my feet so I wouldn't fall off the cliffs. I started to believe it was really a stupid thing to do.
About an hour later some lights came down the road and I caught a ride in a car down the mountain and to a bus stop at the edge of the city. The last bus just showed up so I climbed aboard. Two bus stops later the bus driver let a young man into the bus and he sat down next to me. We looked at each other and then realized we knew each other. It was a young man I had met in Victoria, British Columbia. He said, "Do you remember me, I became a Christian! This was the 3rd time the Lord had taken me to an obscure place and showed me where His Word had traveled to.
After leaving there I went to Hong Kong where God showed me another wonder that I will discuss after this story.
After leaving Hong Kong, China, we arrived in San Diego, California. Shortly after arriving, It was late at night and I was walking across the base. It was pitch black out. I heard someone crying and headed in that direction. In the middle of a large parking lot was a young man sitting on a concrete divider with his head in his hands, crying. When he looked up I saw it was the young man who I had come up to me when I first landed on the USS LaSalle that had become a Christian. He was having a difficult time in his life. It never amazes me how God works.
I started my faith journey at the boot camp in San Diego in 1975 and Now I finished my Navy journey in San Diego in 1979. God took me to 4 corners of the world to show his faithfulness. He showed me that His Word never goes void. I am looking forward to one day see the pyramid effect that happened because of my first witness. Be faithful as God is faithful to bring fruition to your journey.